Friday May 14th

Percy Eldridge Cup Final At Ffostrasol

Aberaeron Res 5 v 0 Llanybydder Res

Aberaeron Reserves have won the Percy Eldridge cup final in a fairly one-sided affair at Ffostrasol. In fairness to Llanybydder, they held their own during the first half and until 43 minutes the score was goalless with only a few half chances per side.

But a couple of minutes before the break, Lee Browne who would end up with four of the five goals, pounced on a poorly defended corner to break the deadlock from just a couple of yards.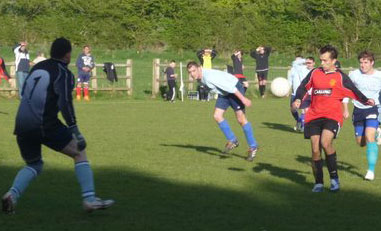 Lee Browne attempts to lob the keeper during the first half

After the break, any hope Llanybydder had of getting back in to the game was extinguished when three quick fire Aberaeron goals went in. Gwyndaf Lewis scored Aeron's second and Browne again with his second and third.

After that the game was over as a contest and though Browne added his fourth later in the half, Aeron already knew the game was won. Deserved winners then, in what was their last opportunity in this particular competition for the immediate future.

Llanybydder will be thankful to Tommy Lovell at the centre of their defense, without whom they would surely have been more soundly beaten. A sound performance which made him seem a good ten years younger than he apparently is.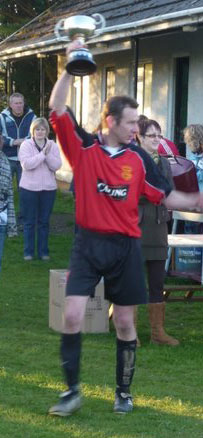 Captain Simon Evans completes his personal full-set of Ceredigion trophies

However, particular attention should be drawn to two Aberaeron players, namely Lee Browne with four goals and, in particular, Liam Craine who was excellent on the left wing.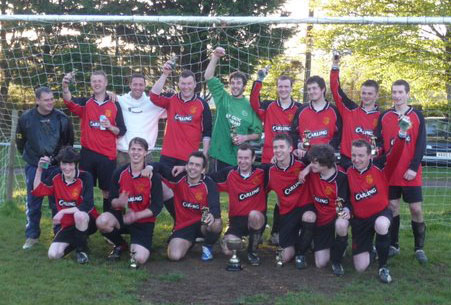 Percy Eldridge winners 2009-10 - Aberaeron Reserves

Back Row l-r - Wyn Owens, Rhydian Robers, Gavin Roberts, Gwyndaf Lewis, Wayne Wharton, Rhydian Lake, Aled Davies, Huw Owens, Gareth Evans

Front Row l-r - Oliver Hatfield, Jake Forbes, Lee Browne, Simon Evans (captain), Andy Hibbard, Liam Craine, Delme Lloyd